What's in store for 2015? Streamlined spaces that work with today's lifestyles, new color palettes, and overall a sense of fun and creativity. Read on for my predictions for home décor in the new year.
1. Smaller Homes for Greater Efficiency
A new generation of home owners wants smaller homes that are less work and more efficient. Younger families are opting for tighter communities with a greater quality of life in an urban setting, rather than the suburban mini-mansions that were built prior to the recession, while baby boomers are looking to downsize.
Source: Hammer & Hand
How are we seeing this transition in home design? Instead of separate living and dining areas, open concept design is in demand. For example, you're more likely to see an eat-in kitchen than a separate dining area, which is better suited to families on the go and multigenerational households.
In keeping with using all spaces from inside to out, outdoor living areas are becoming more prominent with well-appointed front porches, rooftop spaces, and even outdoor kitchens.
2. Smoky Hues
After years of cold white and stainless steel, we'll be moving toward warmer, darker tones and materials for counters, floors and appliances. Ebony and charcoal are having their moment but indigo blue and dark navy are also popular choices.
Source: House Beautiful
I personally love the color "greige" which is a warm beigey-grey. It is a great neutral to go with smoky color tones. However, you can also pair it with bright colors, neutrals, or pastels because it's an easy background to work with.
Hunter Douglas Design Studio™ Roman shades
If you aren't building a new home or undergoing a major remodel, you can incorporate smoky or warmer grey tones by changing your window coverings. Hunter Douglas has added many warm greys and blues to a number of product lines, including Heritance Hardwood Shutters and Roman Shades.
3. Granite Alternatives
Granite might make for a classic countertop, but there are plenty of exciting alternatives available, such as quartz, stainless steel, and wood. Other cutting edge countertop materials have come onto the market, such as nanotech and tempered glass.
If you're looking to make your décor more environmentally friendly, recycled materials are emerging as a granite alternative for slab counters. A company called Eco Crush crushes up recycled glass, rock, and concrete, so that countertops look like quartz with lots of little coloured glass bits for a unique look.
In addition to considering granite alternatives, don't be afraid to mix it up. Designers are starting to use one material for countertops and something unique for the kitchen island. For instance, if you're an avid baker, you might choose a durable material for your countertops and marble for a customized kitchen island perfect for rolling out dough. Gorgeous!
4. Gold
Of all the trends this is my favorite, gold is back! There have been trickles of the gilded material in the past two years, but now the gold rush has truly begun! Gold and other warm, yellow metal tones are showing up in lamps, accessories, mirrors, bathroom fixtures, and more.
With its warm, rich feel, gold is a nice departure from chrome. It's versatile and incorporating a gilded gold finish doesn't mean you have to go for a formal look. To add shine, try using gold pieces in a room that are slick and bright. For texture, select accessories that are distressed or burnished.
5. Architectural Art and Maps
Architectural inspiration and maps are showing up everywhere — from wallpapers to framed prints and collages. You can find personal ways of introducing this trend into your décor on Pinterest and Etsy, such as a wood-cut of your home state.
You can integrate the world of architecture and maps into your home décor with artwork featuring antique maps, blueprints, modern architectural drawings, and pictures and prints inspired by old architecture.
6. Shiny Surfaces
Let it shine! Colored glass, glossy paint, polished brass – gleaming surfaces will abound in 2015.
The key with shiny surfaces is to think about balance. Right now there's a ton of mirrored furniture, crystal chandeliers, and other shiny items on the market. The perfect room has a mix of textures, so you want to add shine, but not too much.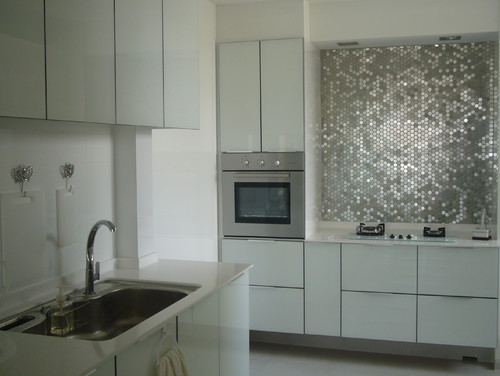 In design, we work with the rule of three: three patterns, three colors, or three types of anything to help create harmony in a room. For example, use the rule of three to bring shine into a room by adding a mirrored dresser, a high gloss picture frame, and a mirrored tray. It's a simple way to incorporate shine without investing in new tile or countertops.
7. Step-In Showers
There was a time when every master bath had a huge Jacuzzi tub, but today built-in bathtubs are disappearing and so are shower curtains. Step-in or curbless showers are designed to block water from spraying into the rest of the bathroom, but otherwise stay open.
Step-in showers aren't just trendy; they're also really functional. An example of thoughtful design, step-in showers are safer (you don't have to climb over the tall lip of a tub to get in) and allow people who are growing older to stay in their homes longer.
8. Organic Wallpapers
Organic wallpaper, whether it's gorgeous grass cloth or a large leafy pattern, is turning heads. The right one can add texture or create a focal point in a room.
This isn't the same as the wallpapered rooms of the 1980s when every wall was covered with an overwhelming motif. Instead, organic wallpaper should be used strategically by creating an accent wall. For example, beautiful patterned wallpaper could be installed behind the bed in a master bedroom.
If you are ready to try organic wallpaper, just know that it's a commitment – you can't just paint over it if you don't like it. Consider trying a favorite wallpaper in a powder room first. It's a pretty safe place to experiment with wall coverings.
9. Stylish Doors and Garages
The traditional look of the basic front door/garage door combo is beginning to disappear in lieu of options that are more visually interesting. In 2015, we'll see home entrances with barn doors, mid-century modern doors, carriage doors, and garage doors with frosted glass windows and horizontal panels.
Beyond the garage door, interior doors are becoming more stylish, too. For example, interior sliding doors are gaining in popularity and closet doors are becoming more interesting as well. I love the sliding barn door look – people are even putting them inside the house as a clever way hide the TV.
10. Pendant Lighting
Lighting has gotten so fun! Just a few years ago, pendant lights were only used in the kitchen or dining area. But in 2015, they will be a major decorating element. Look for pendants lights to pop up almost anywhere: over the bathtub, in the master bedroom, in the center of a great room, or over the kitchen island.
Pendant lights can serve as the focal point of a room, saving space and drawing the eye. They're modern and edgy, especially if you go with an industrial-style cage design, colored glass, or asymmetrical hanging heights. Other styles to watch out for in the coming year include the popular Edison light bulbs, antler chandeliers (natural or painted), or shabby-chic crystal chandeliers. All these options and more can add a little bit of funk to a room.
Décor Trends, Not Rules
Decor trends are meant to inspire you. Take the ones that work for you and make them your own for a fresh start in 2015.
Save
(Visited 530 times, 1 visits today)